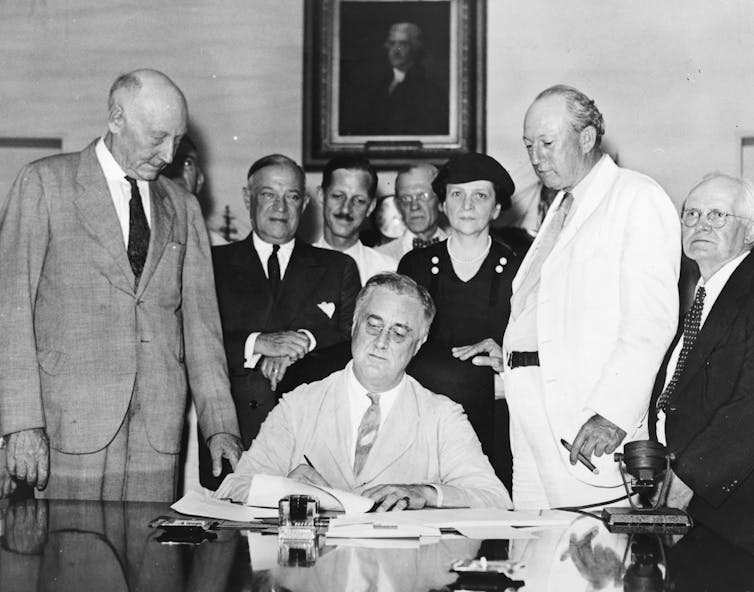 This article is the third in the Reclaiming the Fair Go series, a collaboration between The Conversation, the Sydney Democracy Network and the Sydney Peace Foundation to mark the awarding of the 2018 Sydney Peace Prize to Nobel laureate and economics professor Joseph Stiglitz. These articles reflect on the crisis caused by economic inequality and on how we can break the cycle of power and greed to enable all peoples and the planet to flourish. The Sydney Peace Prize will be presented on November 15.
---
Deepening economic inequality is a scourge across most of the world's democracies. For decades now, the gap between the wealthiest and the poorest has been widening. This has very real and very dangerous consequences for people's mental and physical health and for the cohesion of our communities. So why isn't anything serious being done about it?
Reversing this trend, or at least ameliorating it, would not be difficult. Economists around the world have spent the last few years laying out some fairly straightforward policy solutions. These range from reform of the rules governing how pay is set in the big corporations to sustained investment in the foundational social services that everyone but the very richest relies upon, including public education, health and housing.
Despite this clarity, very few of these initiatives are being pursued in any of the developed democracies. Instead, political action remains focused on tax cuts that favour the wealthy or big business, on immigration restrictions that can hinder economic growth, and on public subsidies for a handful of old industries, even where there are environmental reasons to be transitioning away from them.
Why the inaction on inequality?
The question that matters more than almost any other when it comes to inequality right now, then, is not whether it is a problem or how to resolve it, but what is it that's holding us back from doing what we need to do?
The answer to this question cannot lie in an absence of practice, knowledge or understanding. Most countries successfully initiated inequality-tackling reforms in previous generations. And they often did so in far more pressing political and economic circumstances, such as the Great Depression of the 1930s or the immediate aftermath of the second world war.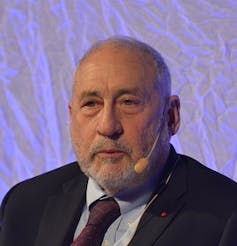 Even where there is not previous experience to draw upon, politicians and their advisers can draw upon a host of more recent studies of the causes, consequences and potential responses to the rise of inequality. This includes the work of this year's Sydney Peace Prize recipient, Joseph Stiglitz. There is no shortage of expertise for a new generation of egalitarian reformers to draw upon.
Nor does the answer lie in entrenched public unwillingness to tackle the problem. It is true that in the 1980s and 1990s, electorates the world over were often skittish about interventionist economic policy proposals. They favoured tax reductions over public service investment and were anxious about government's efforts to "pick winners" in the economy.
But such anxiety has greatly lessened right now. Indeed, polling consistently suggests that even in countries without a sustained tradition of government action against inequality, a large public appetite now exists for measures to tackle it. Such measures, stretching from sharp increases in minimum wages to the nationalisation of major public utilities, enjoy majority support in many democracies.
We have also witnessed electorates across the world take bold and risky decisions in their voting behaviour. This includes support for extremist political movements motivated partly by a desire fundamentally to shift away from the status quo.
The problem lies with our politics
If the problem does not lie in knowledge or public support, it must lie somewhere that does not currently get enough attention: in our processes of policymaking – in short, our politics.
Political life in the developed democracies has been radically transformed in the last few decades. Usually this is told in a storybook version, with an endless rise of openness and inclusivity.
In the early decades of the 20th century, this narrative goes, women and the poorest won the vote. In the middle of the century, trade unions and civil society organisations exerted increasing influence on national political decision-making. And as the century aged, other groups including LGBTQI action groups, minority and indigenous populations began to find some long-denied political influence.
But there is another, far darker story to tell. The last few decades have witnessed the rise of another way of doing politics. The anthropologist Janine Wedel brilliantly describes that way in Unaccountable: How Elite Power Brokers Corrupt our Finances, Freedom, and Security (2014).
It is the world of the professional lobbyist, of the revolving door between global corporations and the highest levels of government, of uneasy relationships between public decision-making and private profit, and of the capture of elite thinking by norms and expectations that owe too much to the practices of the financial services sector.
All of this has happened at the same time, of course, as a sharp decline in the organisations that used to do much to hold these tendencies back. Union membership has fallen rapidly in the advanced democracies, for instance. And formal mechanisms that guaranteed that governments had to explain their policy decisions to multiple stakeholders have been eroded across the world.
As a result, the salience of issues such as "what the public thinks" and "what the public needs" when it comes to the economy have been significantly eroded as well.
What all of this means is that economic decision-making increasingly responds to a narrower and narrower section of society. In such circumstances, it is no wonder that almost no concerted action has been taken to halt the rise of inequality.
Fight for the fair go is political first
What it also means, though, is that the action we need to restore the fair go cannot begin with the economy. It must instead begin with policymaking and politics.
We need to make sure the voices of those affected by inequality are genuinely heard and heeded. This commitment should run through everything we do: from supporting our local trade union to opening up scholarly resources to those people in need, from demanding action to rein in corporate lobbying and special access to generating exciting and innovative ideas for using new technologies to accentuate the voice of those without access to formal power.
These ideas are where our energy needs to be. If we want to see greater equality, we need to spend time working out precisely how our political life can become truly responsive. And then we must campaign to make those changes real.
---
This article is republished from The Conversation under a Creative Commons license. Read the original article.